Medly is a no-code template built for professional medical services, hospitals and private medical centers. It serves as a great landing page and appointment booking application. It can also be used by Pharmacists, Medical Practitioners and even Ambulance Services. The template is responsive and dynamic. Features a slick modern design, contain over 6 pages, and an admin panel to manage appointments.
Minimalistic responsive design.
Appointment Bookings with Doctors or Practitioners.
Integrated Hospital Showcase to display sections and pictures of the hospital or clinic.
Request a Quote functionality
Showcase Doctors and Medical Team​
This contains all possible information related to a patient appointment. Basic information entered by a user who want to make an appointment is stored here.
This data type contains contact messages potential customers might have for your company. It contains name, email , phonenumberand message fields.
Your medical center might want to showcase your doctors and medical practitioners. This data type contains such information.
This data type contains all information about the hospital. It contains a picture field and a description of the picture to give visitors on you website an idea of facilities at your center.
This data type contains data gotten from the quick reply form on the web application. Quick Reply Form

This contains information gotten from the quote page.
This template offers you the opportunity showcase services you offer at your medical center. This data type stores information about each service.
Loyal customers might wish to subscribe to you to receive latest information. This data type stores their email addresses
This is the landing page of the Medical Center Template. Its simple design gives an overview of the Medly to a prospective client. It also has links in the page to point the potential customer to other pages.
The About page contains a brief history of your medical center as well as mission and vision statement. . All of this can of course be changed to your satisfaction. It also showcases the doctors and specialists you have in your medical center.
The Services page showcases all the services rendered at your Medical Center. New services can be uploaded from the dashboard.
The Hospital page helps visitors on your site the opportunity to see your hospital in detail. This page helps you take each section of your hospital and add images and brief descriptions on each image. Different sections can be added to this page.
This page allows contains a form which users can fill to reach out to you. It also contains a map to your Medical Center.
This page is for potential clients who might want an idea as to how much a service might cost. The form on this page captures all the major things your medical center might need to know before giving out a quote. This however can be altered to your taste but please be sure to know what you're doing. Please send an email for assistance if necessary. All values are submitted to the database and to your email.
This page helps clients of your Medical Center make appointments ahead of time for a session in one of your departments. The form is simple and easy.
Navigation on the Medical Center Template is simple and straightforward on all pages.DashboardNavigation in the dashboard makes use of custom states and conditions. The dashboard is a one-page component of the template designed to display information in the database, edit, replace or delete content on the template. This helps you to avoid the technicalities of manual changing things in the database.
The username and password for the Dashboard is "admin". This password is the default for the template. It is therefore advised that before deploying the application the username and password is changed.
1.Remove the initial content from the login popup in the dashboard from the username and password inputs.
2.Double click the Login button and Click Start/Edit workflow.
3.The workflow handling the password pops up. You can then input your preferred password only in the area in the white rectangle designated in the figure above. After doing this, you should try to login in with the new password.
​Dashboard Edit and Delete Status
The dashboard page has a state calledPurchased.This state is responsible for preventing edits and deletes which can be handled on the Dashboard page. On purchase of this web application template, you might wish to make edits and deletes on the dashboard. This could be done by changing the current default value of the dashboard page state "0" to a different number, for example "1" on the editor view of the dashboard page.
By doing this you will be able to make edits and deletes.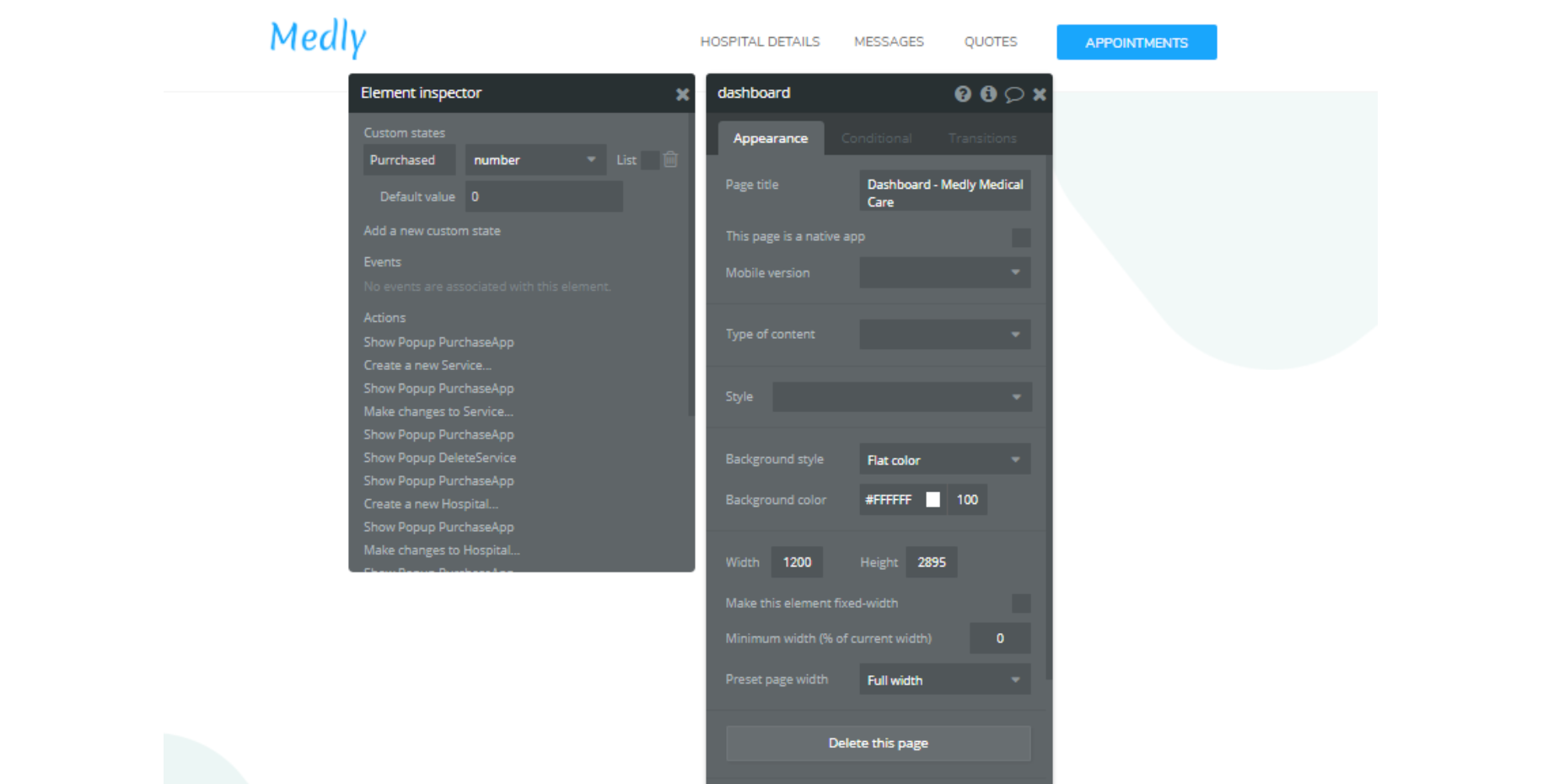 Fixed header on the index page, changed from simple group to floating
Changed default opening tab on dashboard page to "Appointments"
Added shadow to links in the header
Fixed responsive errors on the appointment page
Demo to preview the template