Discoursely is a no-code forum template similar to Discourse. It can be used to create a fully-customized discussion group on your site! This app is fully responsive and can be formatted to match the look and feel of your main website. Use an admin page to organize the application to meet your needs with Rich Text editing.
Topic creation and Publishing
Note
: The template comes with a paid plugin -
Vanilla Rich Text Editor
- you would need to subscribe to it (or buy it) or you can as well replace it with any other Rich Text Editor plugins.
The User data type contains details about a user, these details are fields within this data table and they include a short about text, a color_theme (takes a color_theme), First Name, full name, Last Name, a Location, messages on (this takes a value of yes or no), Nickname, Notification like (also takes value as yes or no and is true when there is a notification for a like), Notifications replies, photo and type.
This data type has only two fields, the name and the color.
Color_theme holds the color_background, a logo, logo_name, a name and more.
When topics are posted on this platform, users can like and comment or reply to comments. These featured operations are stored within this data type. The Comment data table holds fields like likes (takes List of Users as value), replies (takes List of Comments as value), reply to (takes comment as value), text_HTML, text_text and the associated topic.
A user can always get notifications about comments and likes on the platform, and the details of the notifications are stored within this data table. This data type contains fields like comment that takes the associated comment as value, for users (takes List Users as value), seen by (also takes List of Users as value), the associated topic and the type.
The Topic data type has fields like the category (List of categories) the topic is marked with, the comments (takes List comments as value), followed by (takes List of Users as value), privat, privat_user_seen_by, title and the views (takes a List of users).
The index page of this template populates a list of the topics, showing its category, number of likes, comments and views. There is also the option of adding a new topic and a drop-down with predefined keywords that filters the list.
The discussion page goes further to show all comments and likes associated with a particular post or topic. In addition to this, there is a statistics of all likes and comments the user has gotten, an option to follow the topic creator and a list of other suggested topics.
The user's profile page is tabbed into these categories; SUMMARY, ACTIVITY, PREFERENCES, MESSAGES, NOTIFICATION. This page displays different views depending on which category is active at a time.
This is simple page for testing inputs and how they appear.
This page allows users with the right privileges to make changes to the overall look of their account.
This is a simple page that takes the user's login details as input and then signs the user into the platform.
This page allows the user to search through a list of topics effectively by typing into the search input and selecting where the search is run on.
admin
page has an invisible group element on forefront as a security measure to prevent deleting/editing the application data from database. After you purchase the template, in Bubble editor please remove the 2 elements Group Access Denied and Popup Access Denied shown in the image below to remove the security in place.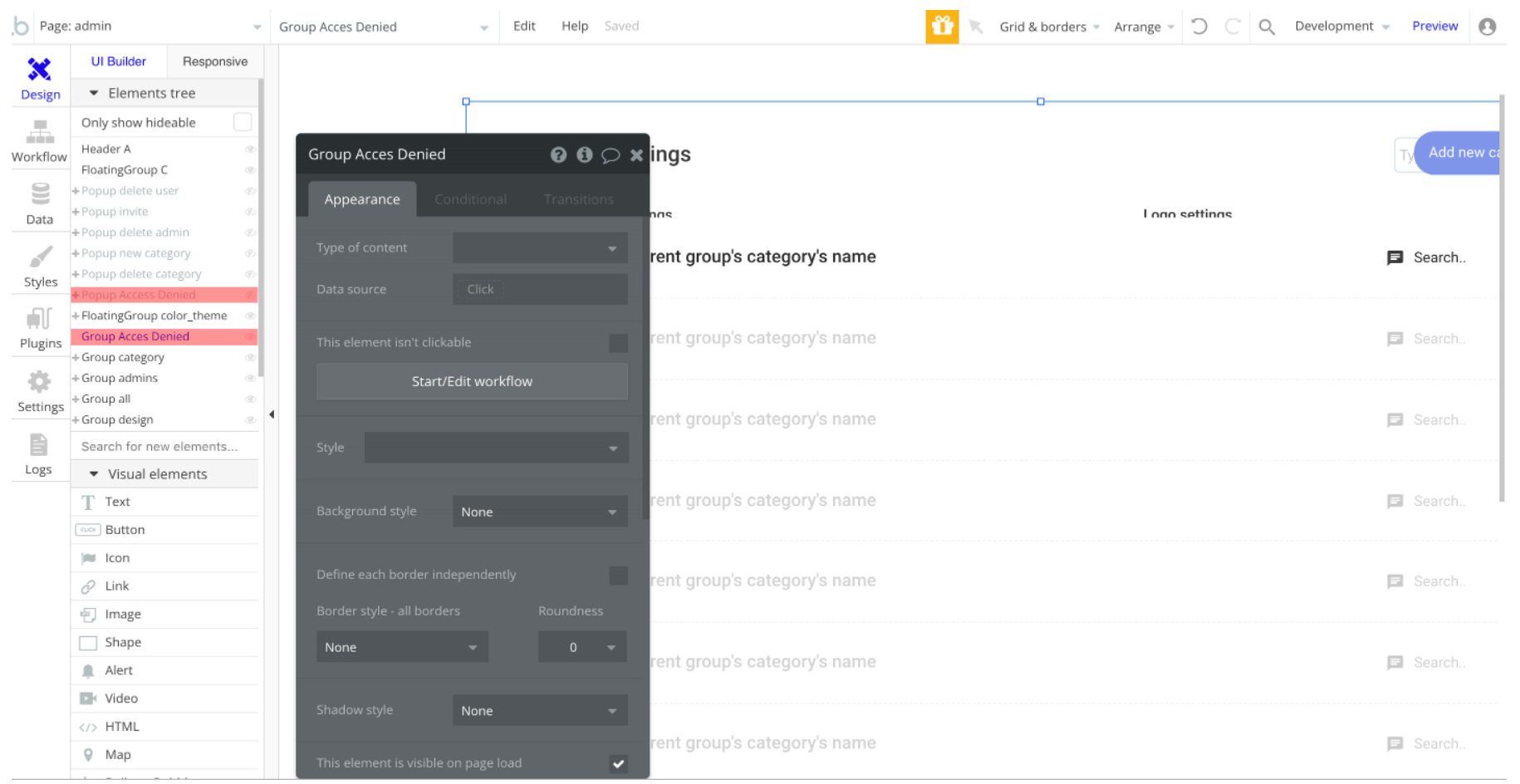 Fixed comments display on discussion page. Changed text element from Vanilla RTE element to Rich Text editor element (newly added plugin).
Demo to preview the template