Agora Cloud Recording for Streaming Component allows you to record your stream into your cloud storage account.
You must have an account with Agora.IO to interact with the API. Create your development account at:
https://docs.agora.io/en
​
To use the recording functionality, you need an Agora account and a storage account (for example, Amazon S3). Here is the guide that will help you set up the Agora cloud recording for Streaming Component within your app: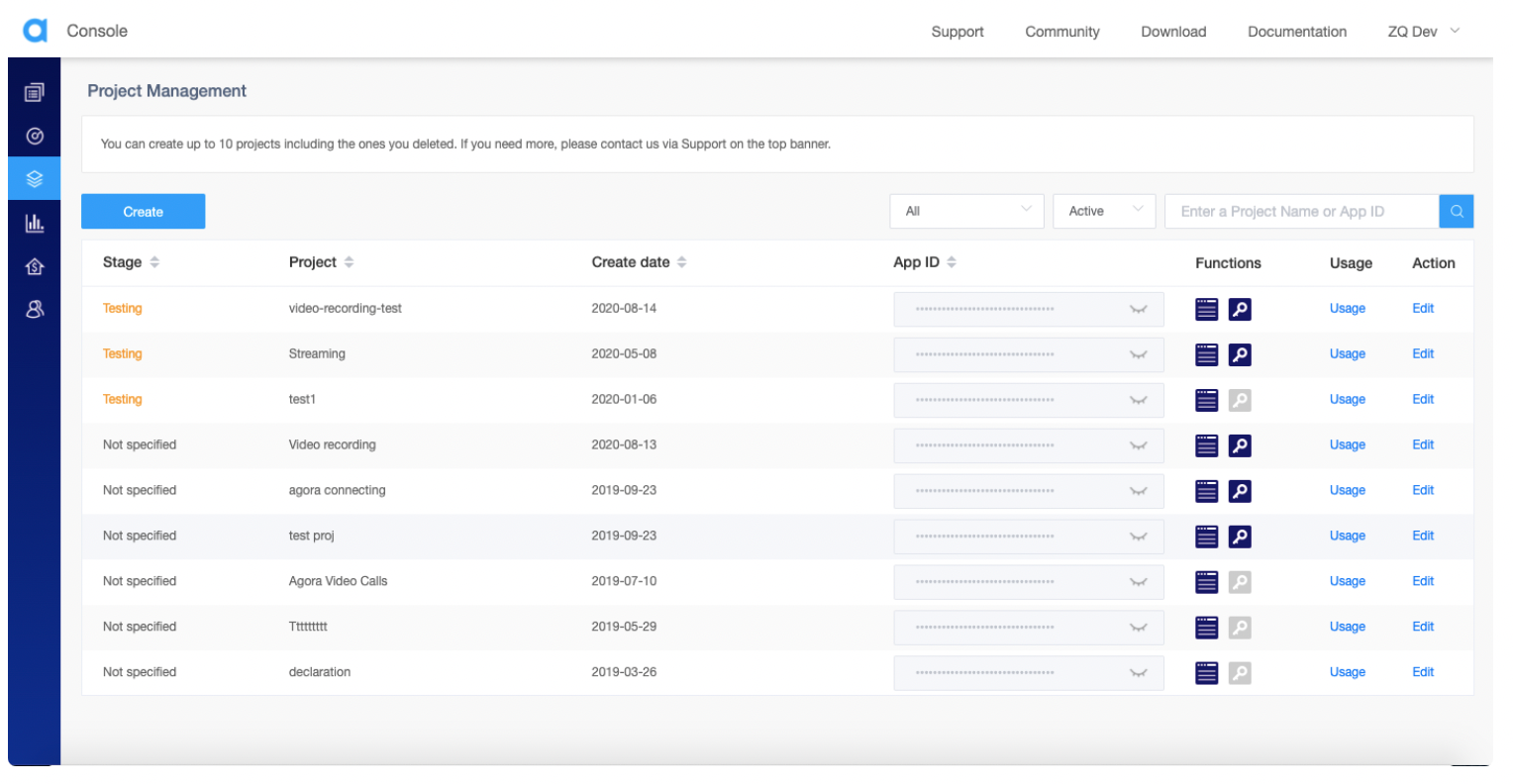 2. Go to the created application find the "Cloud recording" tab and press "View usage":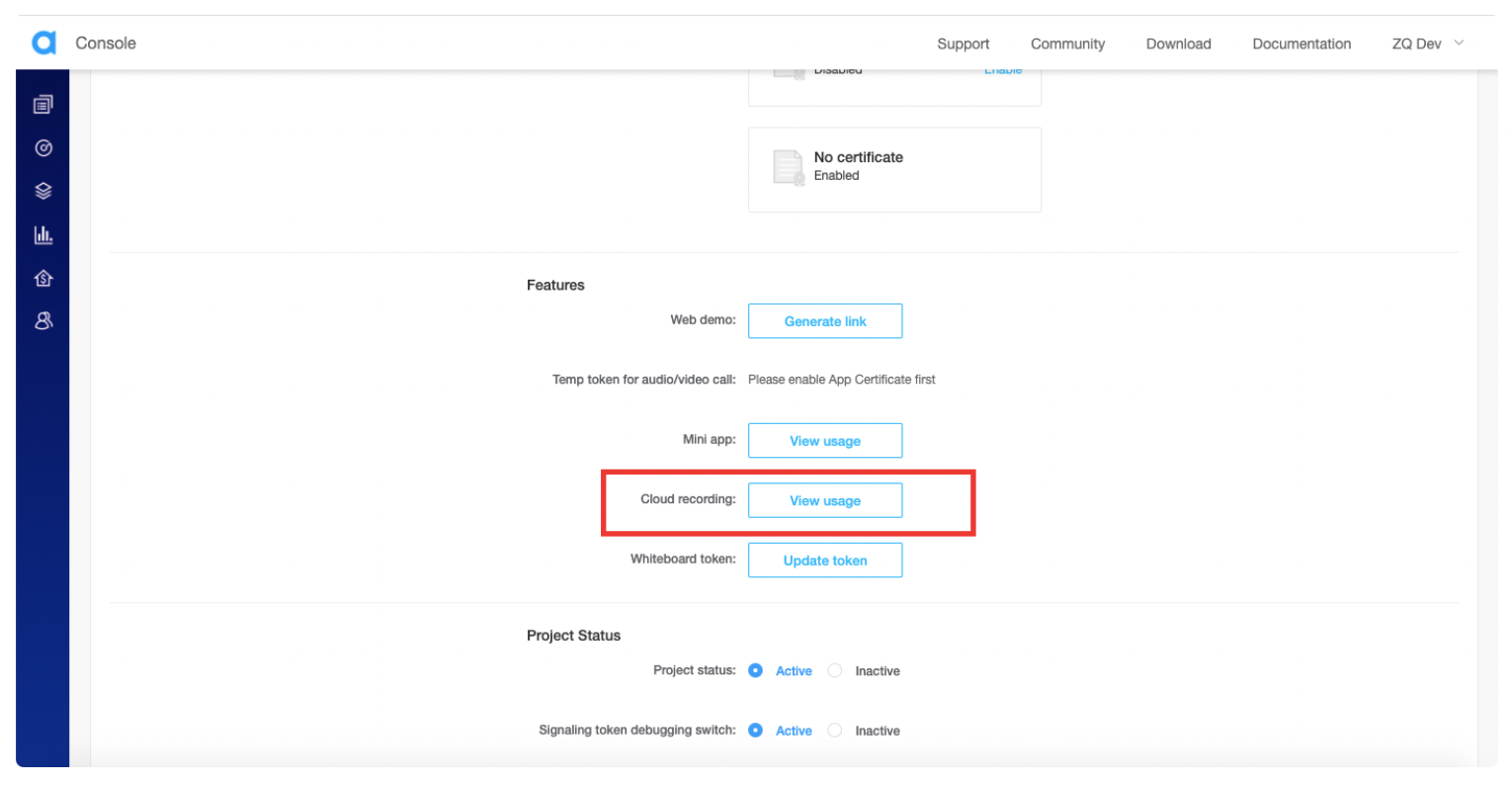 3. In the opened window, click "Enable Cloud Recording":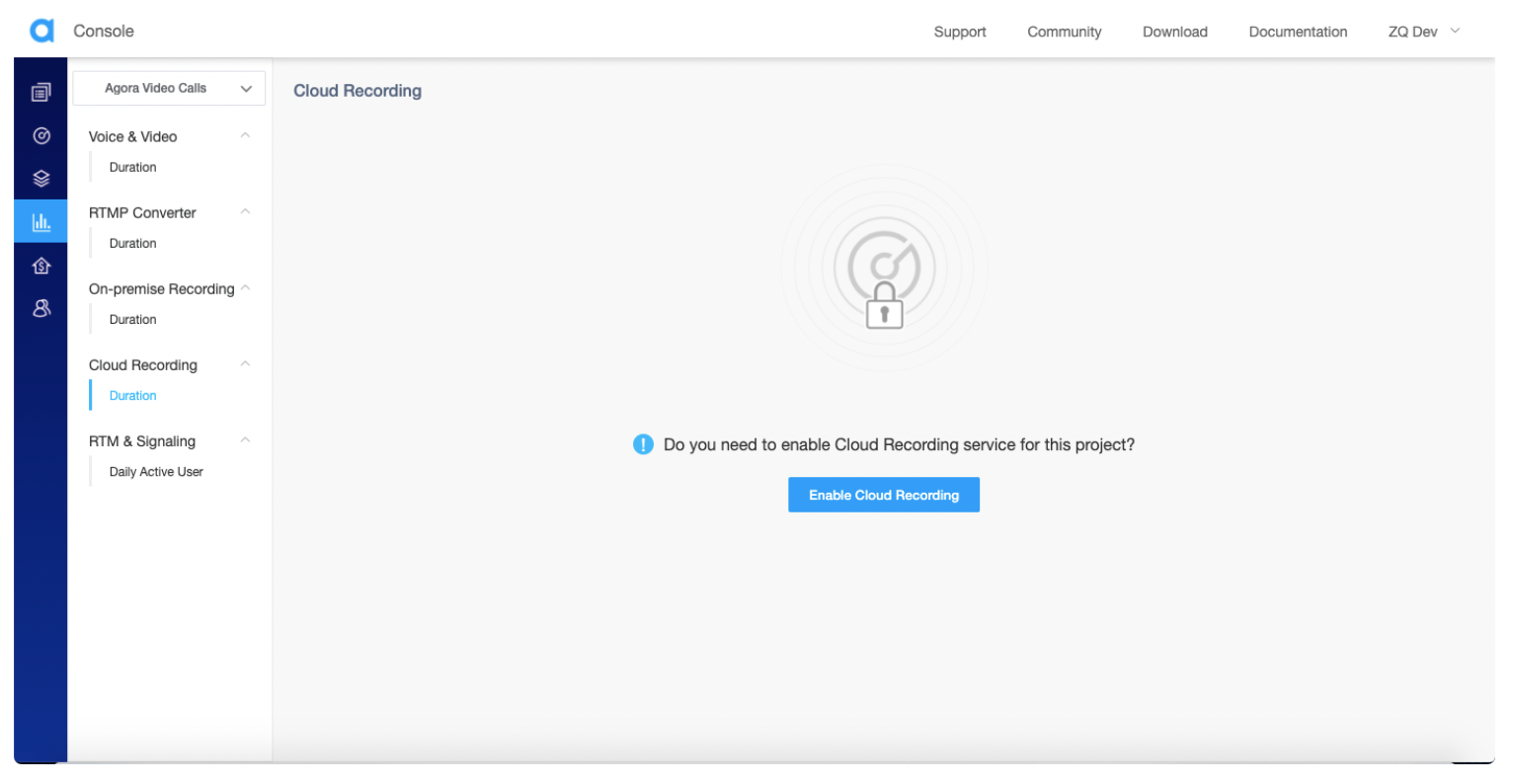 4. Then, go back to your app and get the APP ID and APP Certificate: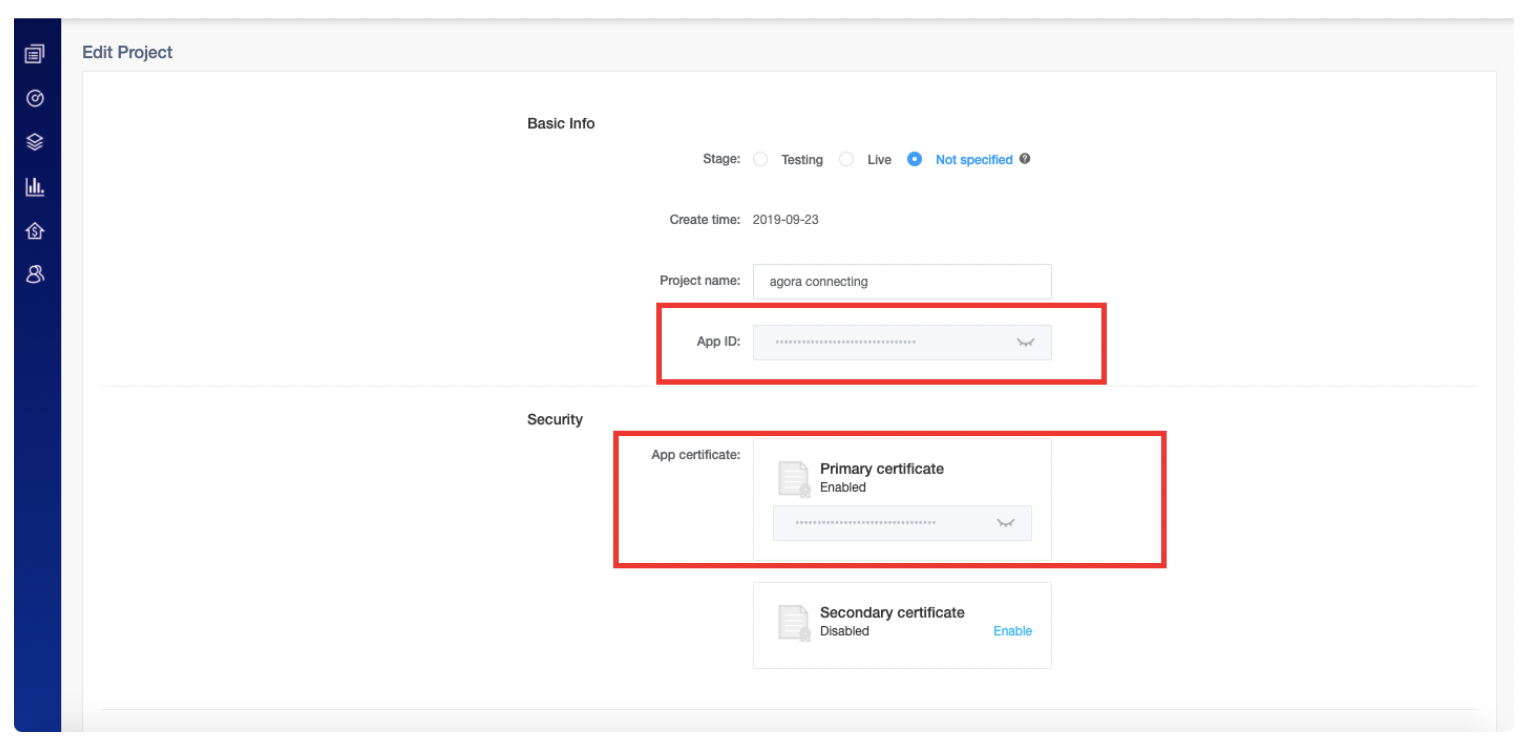 5. Insert your App ID in the same field in Agora plugin: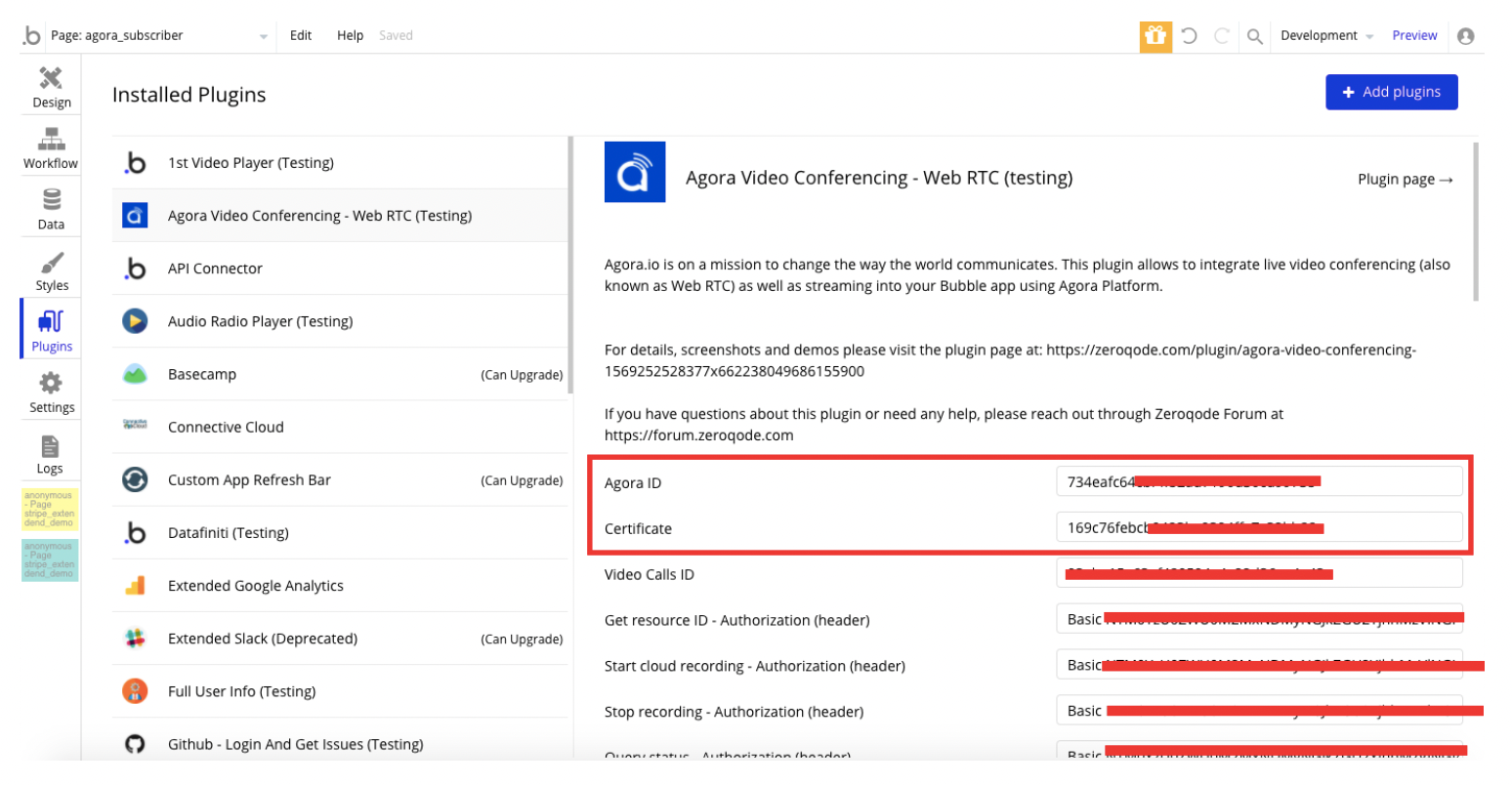 For authorization you'll need customer ID and customer secret from your Agora account:
In the upper right corner of the Agora dashboard window find the the drop-down and it its list select the RESTfullAPI option, click on it: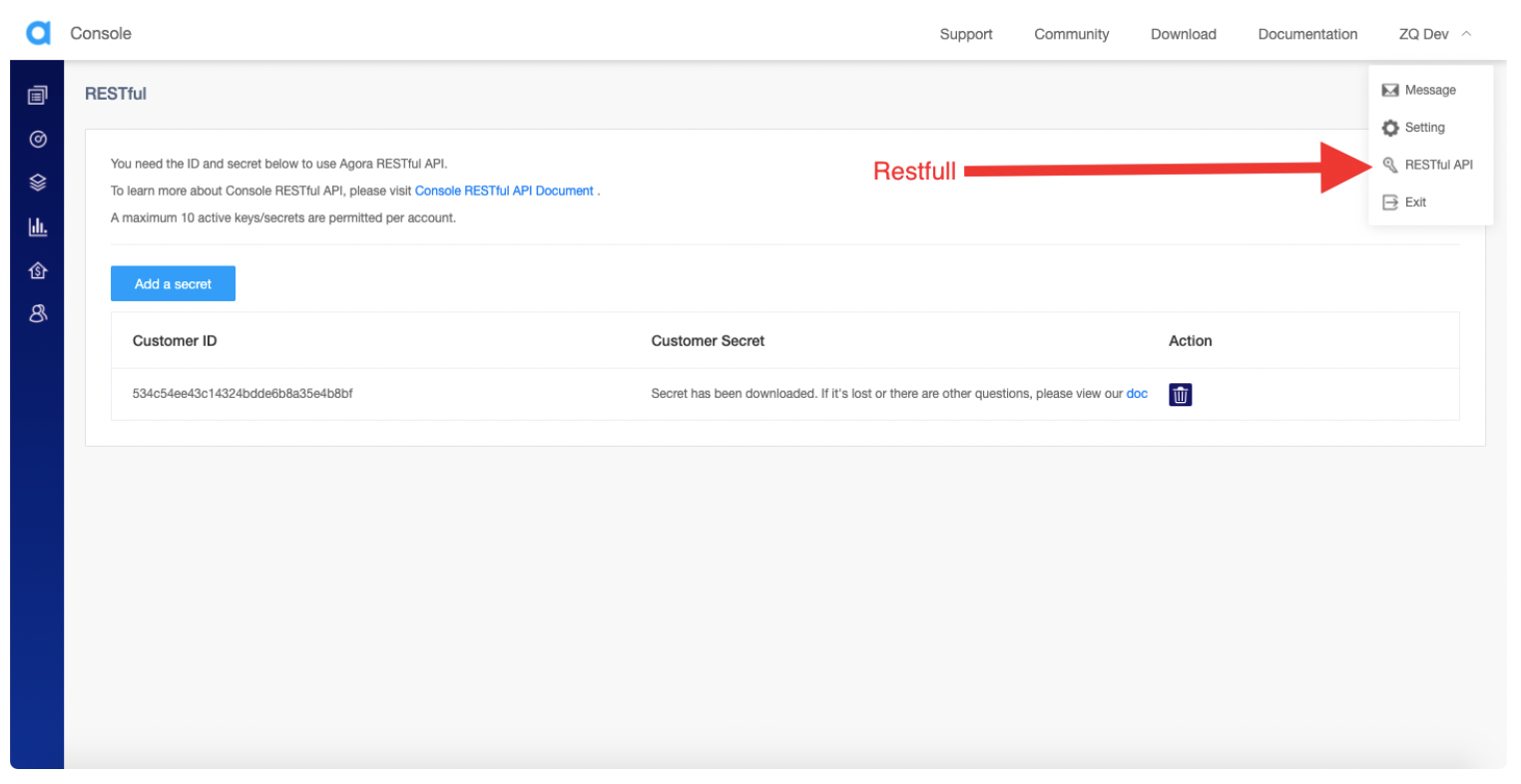 2. Click the button "Add secret" and you'll get the file with customer ID and customer secret.
3. These credentials (customer ID and secret) must be base64 encoded using the following formula: customerID:customerSecret - (
https://www.base64decode.org/
here you can do it).
4. Take the resulting code and paste it into the plugin field for authorization with the word " Basic " (
example
: Basic NTM0YzU0ZWU0M2MxNDMyNGJkZqa2YjhhMzVlNGI4YmY6MWJhOTc2MGM4MDYyNGRhNWIyOWMzOGVkZGVhOMmU1)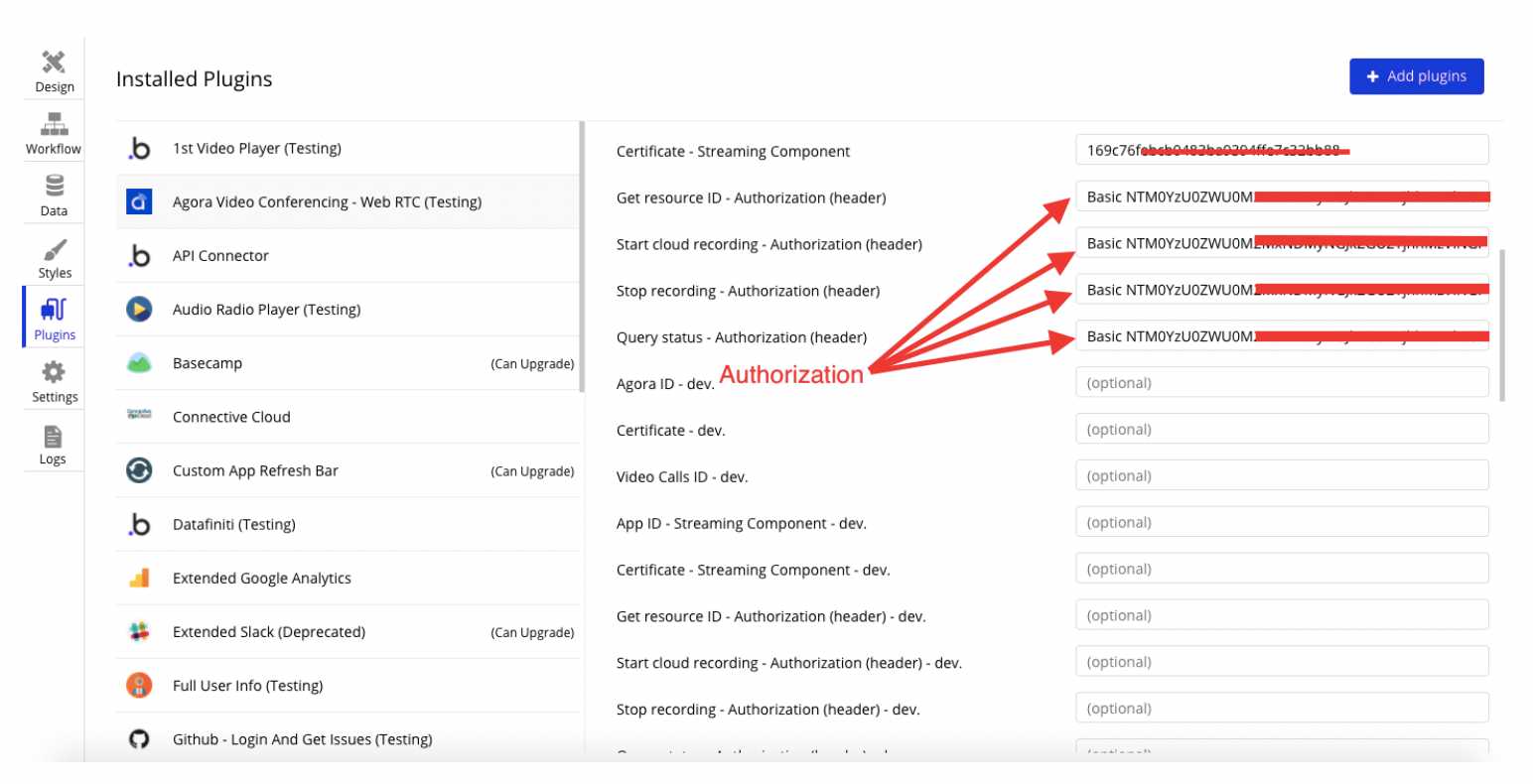 You will need additional data to start recording. How to get them is described below.
Resource ID:
Use the API Call action "Get resource ID":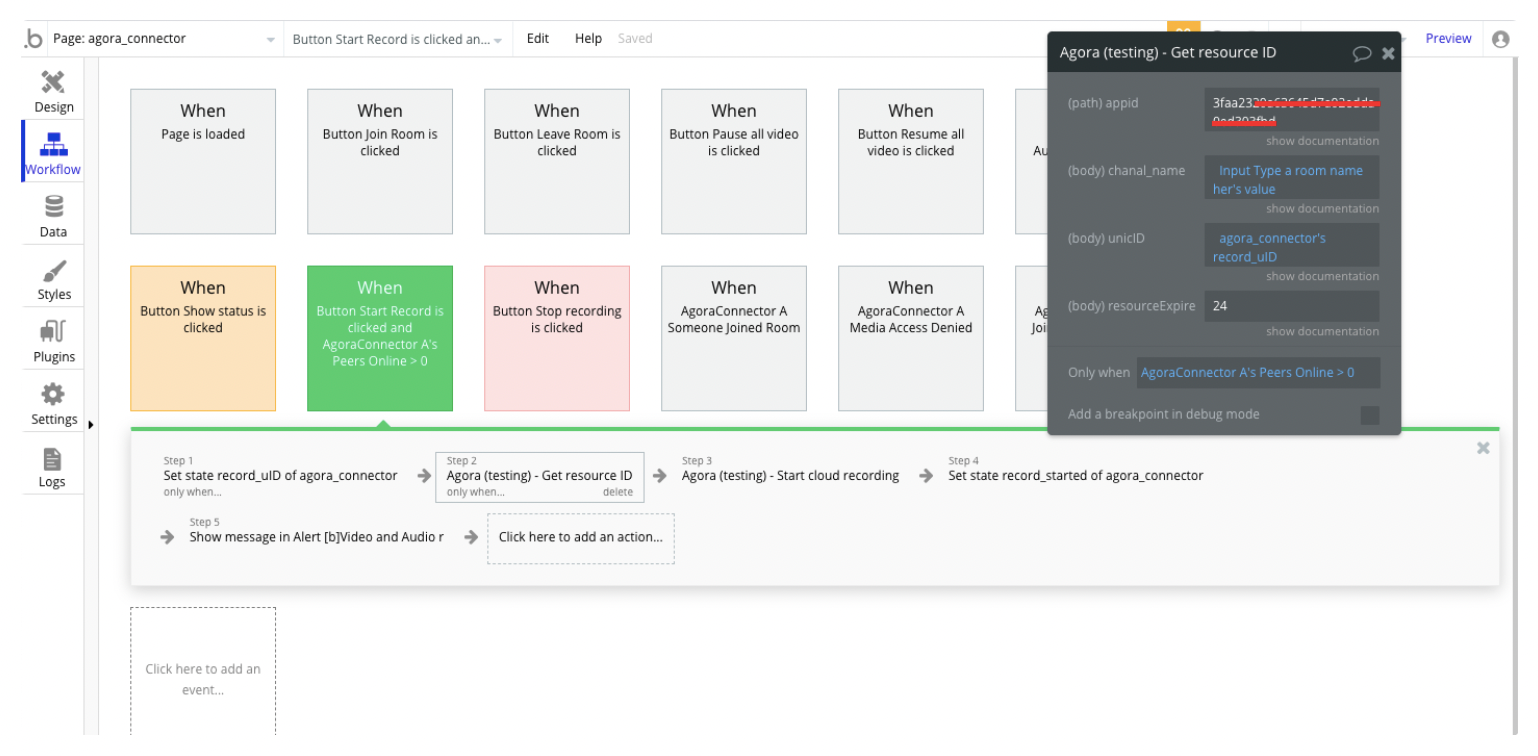 Fill in the required fields.
Go to Project Management tab in your Agora account and pass to Generate Temp Token opposite your application name: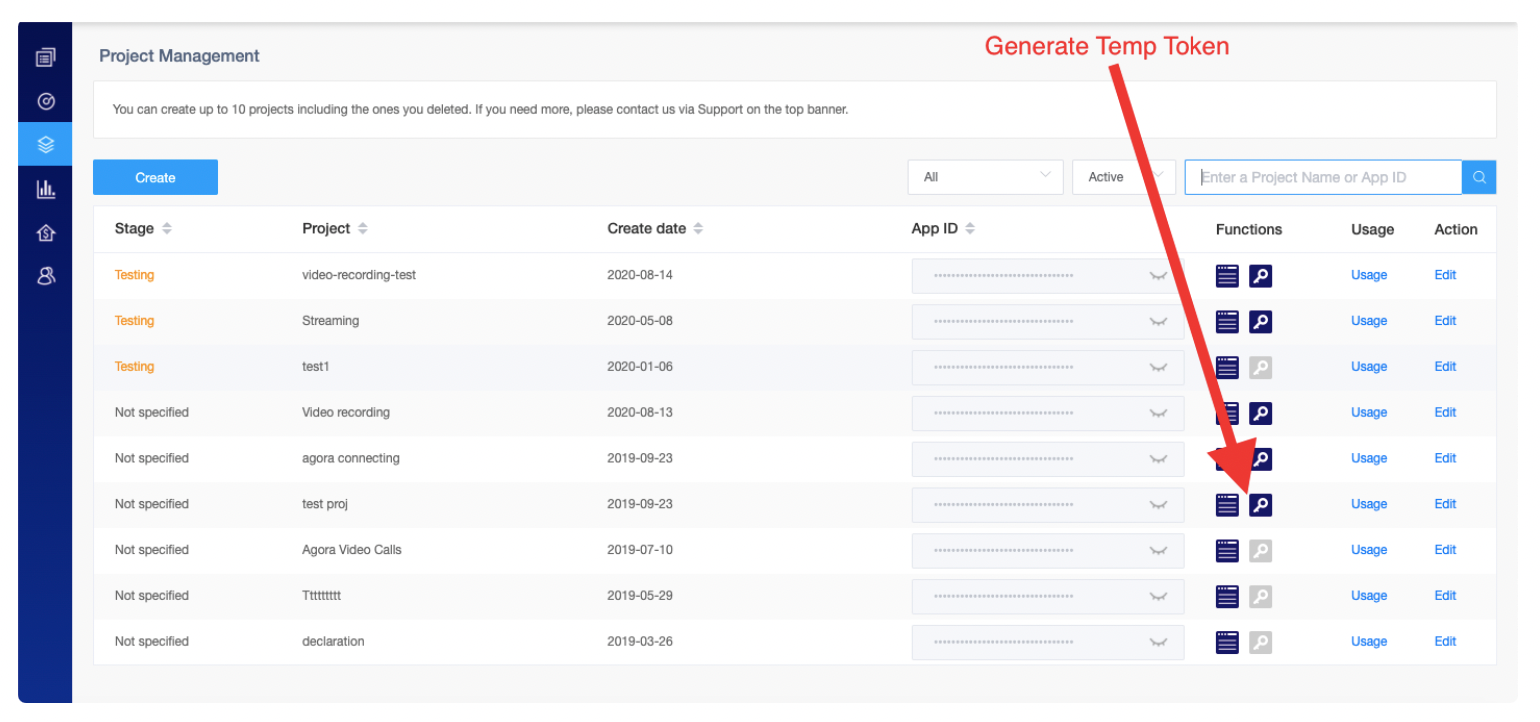 Write the channel name and get the generated token: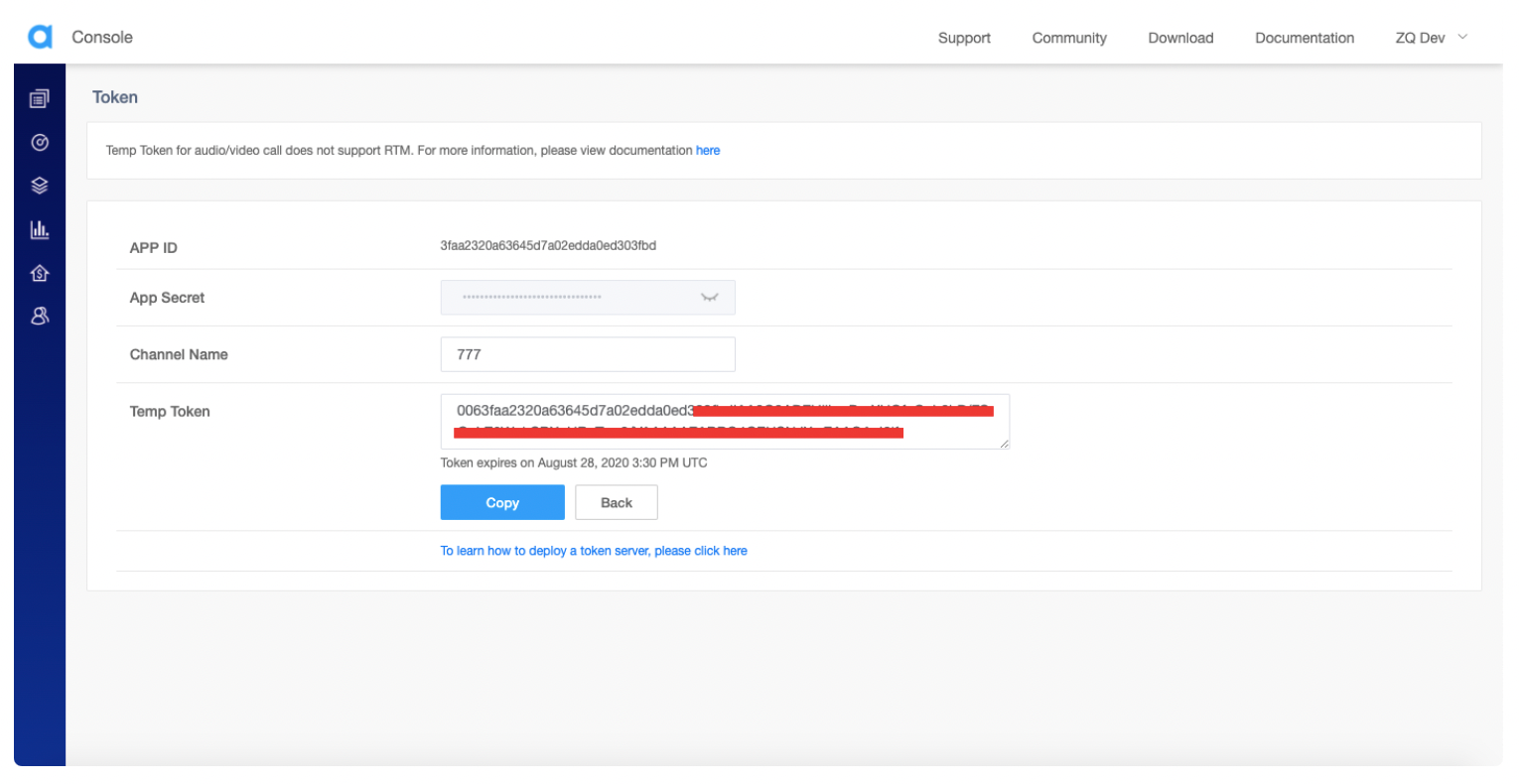 The channel name, that should be set in Plugin action, is the same as in your Agora dashboard: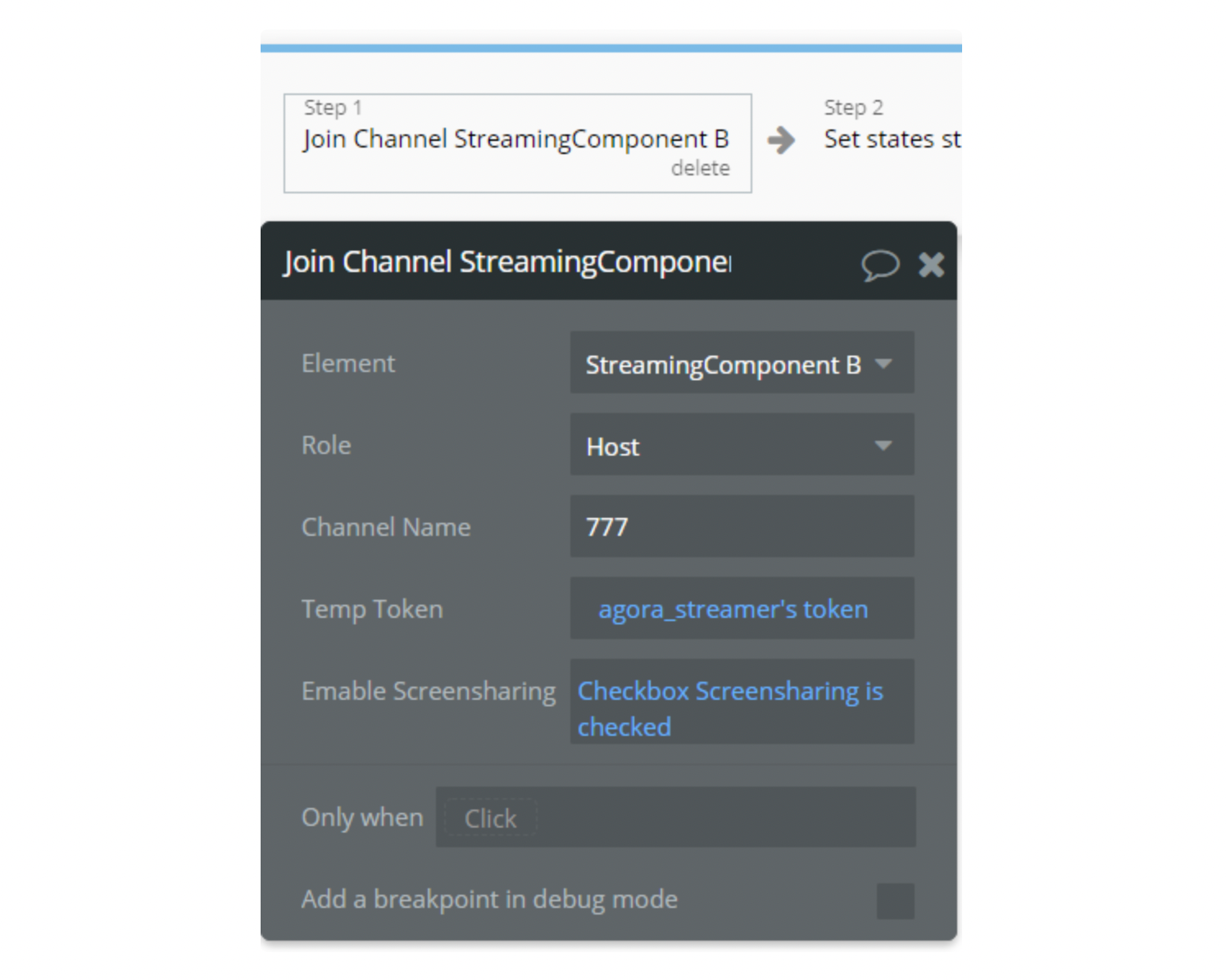 Paste in the same field in the API Call "Start cloud recording":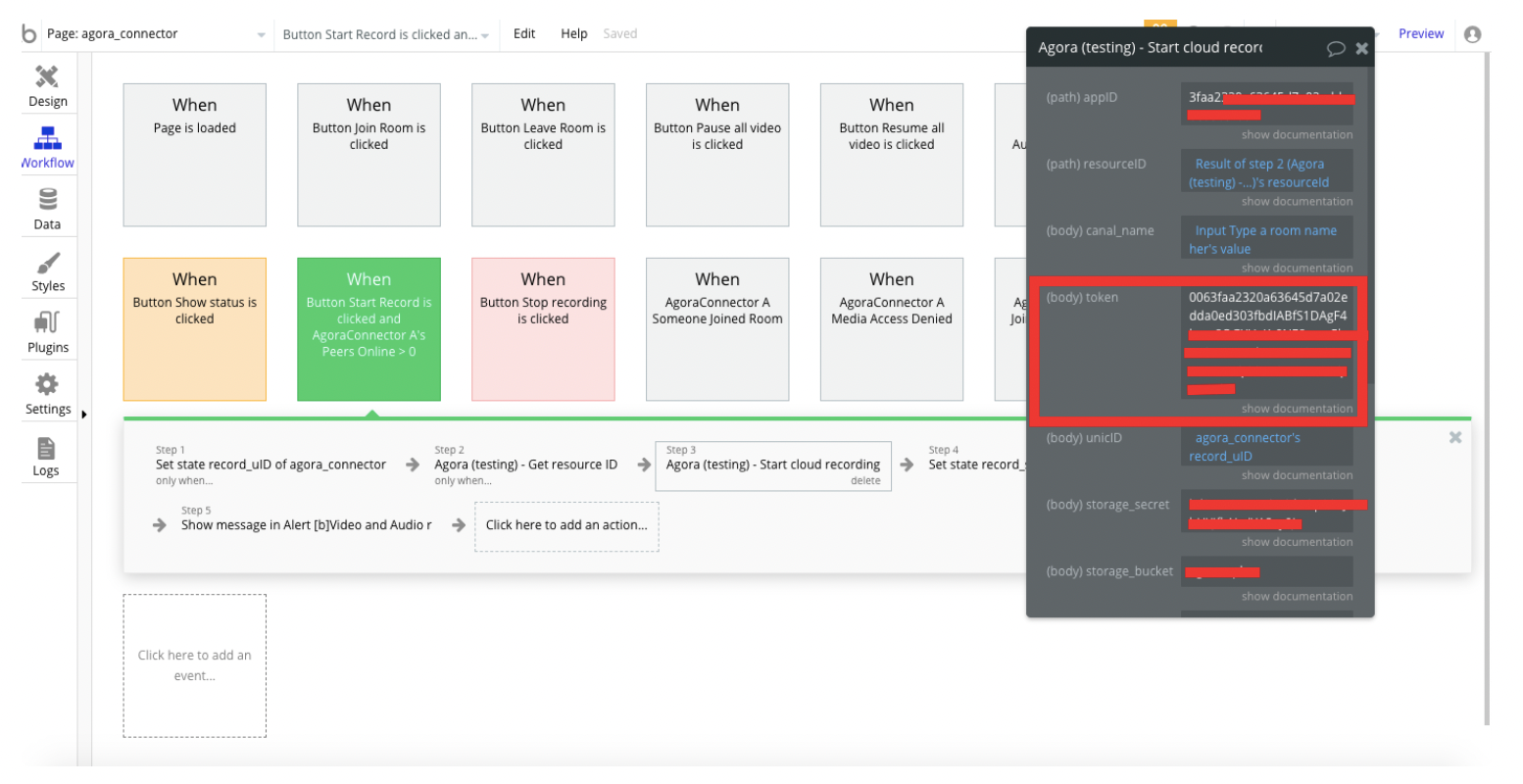 3. Storage secret and storage access:
Go to your storage account (in our example amazon S3);
In the My Security Credentials take Access key and Secret Access Key;
4. Storage region and vendor:
Take the codes for your storage region and vendor.
Get Resource ID
Start Cloud Recording
Stop Recording
Query Status
Files written to the storage are saved in the M3U8 and TS formats.
Update 08.06.21 - Version 1.22.0
Added a new option to enable or disable video and audio in the streaming component.
Update 24.11.21 - Version 1.29.0
Fixed recording for streaming mode.
Demo to preview the settings